The Dirty Secret About Loan Modifications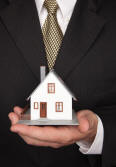 No one wants to talk about being in a difficult place with their home mortgage or financial situation. Unfortunately, this can often place homeowners in jeopardy of losing their home when they don't take action soon enough.
Often the first line of defense is trying to renegotiate the mortgage by using a loan modification company or "expert". The Dirty secret is that homeowners are often left without the new loan they were promised and without the cash they paid the loan modification company.
Caveat Emptor or "Let the buyer beware", read on to see how to protect yourself from unscrupulous companies that might try to take advantage of your situation.
"Pursuant to Senate Bill 94, as of October 11, 2009 it is illegal in California for any person, including lawyers, real estate brokers, real estate salespersons, corporations, companies, partnerships, or any other licensed or unlicensed person or party, to demand, charge, or collect any advance, up-front, or retainer fees, or any other type of pre-payment compensation, for loan modification work or services, or any other form of mortgage loan forbearance", according to the California Department of Real Estate.
So if someone tells you they can help you with loan modification or renegotiation and/or deal with your lender to stop collection of mortgage payments or stop the foreclosure process, and they ask you for, charge or collect money or fees up front, that is a violation of California law. You should report this immediately to the California Attorney General, and to the California Department of Real Estate.
There are still plenty of scammers and con artists out there preying on the desperate and misinformed consumer. "As homeowners continue to feel the pinch from the recession, and as home loan worries, delinquencies, defaults, and foreclosures continue to occur in California, loan modification and foreclosure rescue scams are growing and soaring. The FBI has said that a "rampant mortgage fraud climate" currently exists, and that California is one of the top states for loan fraud."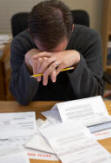 So, how do you protect yourself from those that would take advantage of you? Contact your mortgage company directly and request a Loan Modification that works for you, and that the lender will accept.
Don't give up on the first try, be persistent and take meticulous notes on who you spoke to, what was said, when you left messages and any offers that were discussed. Try and get the contact information of the person you spoke to.
The Department of Real Estate has some practical tips for you for working directly with your lender on a loan modification. Those consumer tips can be accessed at http://www.dre.ca.gov/faq_home.html.
If you are not comfortable negotiating with the lender yourself, Work with a LEGITIMATE, LICENSED, and QUALIFIED person or company. If you would like to read the entire report by the California DRE, go to http://www.dre.ca.gov/pdf_docs/FraudWarningsCaDRE03_2009.pdf
If you think you are in trouble, please, take action now.