Fall Fixes - Low Cost Updating Ideas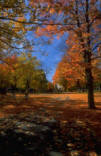 With Autumn quickly approaching and the feel of Fall in the air, now is a good time to consider some low-cost improvements to your home. These are not only relatively inexpensive, but can make a big difference in the way your home looks, even if you are not in the market to sell right now.
Paint – Great for hiding dirt, wear and tear! Consider subtle tones with an occasional bright contemporary room.
Trim – White is replacing natural wood. Those old style thin baseboards should be replaced with new, larger ones. Crown molding is a very popular upgrade as well.
Cabinet Hardware – Bronze and vintage pieces add a classy look to older cabinets. Typically, it's easy to change existing hardware with just a few screws. You can find a wide variety of choices at Home Depot, Restoration Hardware or online.
Flooring – Sand and refinish worn wood floors, this can give a huge lift to aging homes. Have your carpets and tile floors cleaned professionally.
Bathroom Fixtures – Replace old fixtures with new ones. Something as simple as a new faucet or medicine cabinet can make a dramatic difference with a small investment.
Light Fixtures – Again, replace older fixtures with newer ones. Any home improvement store should have a good selection. Choose fixtures that are ENERGY STAR® approved. Consider ceiling fans where appropriate.
Front Door – First impressions are very important! How does the hardware look? Replace if needed, but avoid plated hardware that can scratch and wear easily. Paint the door if needed.
Landscaping – Use bark or other ground cover to make things look neat and finished. Trim bushes and clean out old plants. Replace woody shrubs with a variety of new ones that will provide color in all seasons.
You can easily find other low-cost improvements for your home, just take a look around with a "fresh set of eyes" and you'll see plenty of opportunities.